Let the Maldives be your next travel adventure as a newly wed couple!
Considering a once-in-a-lifetime experience in the Maldives? I will give you 10 reasons to honeymoon in the Maldives and why this is the perfect destination to start your happily ever after, look no further than this idyllic tropical paradise and let me advise you. The crystal clear waters, secluded beaches and luxurious resorts makes it a perfectly romantic place to celebrate the start of your new life as a married couple. For example you can choose from spa treatments, snorkeling or simply relaxing in your own ocean-view villa there's something special for everyone.
An archipelago of over 1,000 islands
We start with number 1 of our 10 reasons to take a honeymoon in the Maldives. An archipelago of over 1,000 islands in the stunning Indian Ocean, it's the perfect destination for a romantic getaway or an ultra-luxury honeymoon. Imagine waking up in one of the luxurious private beach villas and experiencing those crystal-clear waters and golden sunsets. That's the magic that travel to the Maldives promises! From ocean deck villas to amazing spas and breathtakingly beautiful lagoons, this is travel at its most amazing. Let the Maldives be your next travel adventure to experience, because there is plenty of choice!
Sandy Paradise
Take the time to immerse yourself in the beauty of each of its beaches. The beaches are another one of our 10 reasons to take a honeymoon in the Maldives. From white sand coves and crystalline waters surrounded by colourful coral reefs, to secret beaches tucked away for just the two of you to enjoy the peace and tranquillity of its sandy paradise – and it's not hard to see why!
Perfect Temperature
The Maldives is the perfect travel and honeymoon destination, with its beautiful temperatures around 30°C all year round. Whether you are looking for an adventurous outdoor vacation, or to relax with some sunbathing, the warm and perfect climate of the Maldives is ideal. With such inviting temperatures, you can explore the islands with ease while enjoying stunning beach views and azure waters. It's no wonder why so many couples travel to the Maldives for their special occasion- it's just made for romantic getaways!
Make sure to read the 10 reasons to honemoon in the Maldives and when you are convincend contact us so me or someone from my team can personally advise you for your perfect honeymoon spot!
A TRAVEL DESTINATION THAT DREAMS ARE MADE OF!
10 Reasons to honeymoon in the Maldives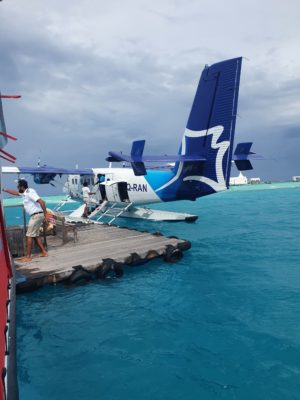 The Maldives is an archipelago of over 1,000 islands in the Indian Ocean
The Maldives is home to some of the most beautiful beaches in the world.
The Maldives has a tropical climate, with temperatures averaging around 30 degrees Celsius
The Maldives is a popular destination for scuba diving and snorkelling.
The Maldives is home to a wide variety of marine life, including turtles, dolphins, and sharks.
The Maldives is an excellent place for a romantic honeymoon.
The Maldives offers a wide range of accommodation, from luxury resorts to more affordable guesthouses.
The Maldives is a safe and welcoming destination for tourists from all over the world.
The Maldives have the most amazing and colourful sunsets, it does not get more romantic then that.
English is widely spoken in the Maldives, making it easy for tourists to get around and communicate with locals